Titanfall: Frontier's Edge 'Haven' map revealed with new images
Respawn and EA have released the first details and images of the new Haven MP Map, part of Titanfall: Frontier's Edge DLC coming soon. This is one of the three maps coming in the new DLC.
Haven:

An exclusive beach resort built on the edge of a massive crater lake, Haven normally caters to the wealthy elite of the Frontier. Pilots utilize the sheer walls of hotel skyscrapers to gain high ground while Titans take cover inside art galleries and luxury restaurants. The large interiors of some buildings can encourage discrete, pilot-only firefights, and Titans hold down strategic locations by engaging in between buildings and from the surrounding beach and roadway.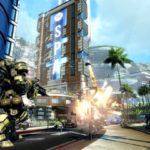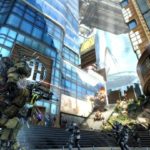 Earlier this week, Respawn revealed images of Export and Dig Site maps, the other two maps part of this new DLC.
Respawn will be live streaming the Titanfall: Frontier's Edge DLC tomorrow, July 23rd starting at 12pm PDT on Twitch. Details available here.
SOURCE: Titanfall