Titanfall cover art officially revealed
UPDATE: EA has officially confirmed this as the cover art via the Titanfall Facebook page.
GameStop Germany has apparently revealed the official Titanfall cover art. Titanfall is set to launch in Spring 2014 for the Xbox One, Xbox 360, and PC. The game is developed by Respawn Entertainment and published by EA.
The cover art shows off the game's awards received at E3 2013.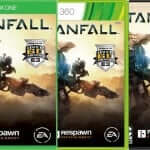 SOURCE GameStop Germany