Rumor: XP needed per level and XP acceleration per generation discovered
NeoGAF user's who have been at the forefront of Titanfall discoveries this week have yet more findings relating to XP and regeneration.
Earlier in the week we reported on the generation system discovery within Titanfall which many refer to as being a 'prestige' system commonly known from the Call of Duty franchise. Requirements that need to be met in order to regenerate your pilot were also reported.
Menu text within the Titanfall beta mentioned that upon 'regernating' your pilot once Level 50 has been reached, "you will be better, sharper, acquiring experience even faster than before". We assumed from this message that upon completing any given match within Titanfall in which you have gained XP, you would receive an XP boost based on your generation rank – it now appears this is correct.
According to the user 'RazorUK' on NeoGAF, below is the XP multiplier per generation.
When you attempt to regenerate your pilot, the following message is displayed based on beta code findings:
Warning! You will lose all that you have unlocked and be reset to level 1. All Challenges will be reset. However, you will earn XP at an accelerated rate of [XP RATE] as a [NEXT GEN NUMERIC] gen Pilot. You will retain your Burn Card collection, and the Ogre and Stryder Titans if you unlocked them. You will get a unique chip indicating to others your Gen status.

The [XP RATE] will display as the following:

Going from Gen 1 to 2 = 110%
Gen 2 to 3 = 120%
Gen 3 to 4 = 130%
Gen 4 to 5 = 150%
Gen 5 to 6 = 180%
Gen 6 to 7 = 210%
Gen 7 to 8 = 250%
Gen 8 to 9 = 290%
Gen 9 to 10 = 350%
To put this in simpler terms, once you have 'regenerated' your pilot to Generation 2, any XP you earn within a match will be multiplied by 1.1x – effectively an XP boost at the end of the match based on your rank.
Below is a graph that displayes the XP needed per level, from level 1 to level 50 – thanks to the user 'Freki' from NeoGAF (click to increase image size)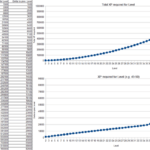 We should stress that this is all from beta code and there is a strong possibility all of this will change once the game has finally released.