Respawn reveals The Militia – the military arm of the Frontier systems' territorial defense pact
Respawn and EA have just revealed the first details on The Militia, the military arm of the Frontier systems' territorial defense pact.
The Militia is a loosely governed mishmash of homesteaders, bandits, mercenaries, and pirates, all rising up as 'citizen soldiers' when the need arises. Many homesteaders have taken on a 'can't beat 'em, join 'em' attitude regarding working alongside different criminal groups. Naturally the people in this melting pot don't always see eye to eye on how to deal with the IMC's exploitation of the Frontier, but they are unified in fighting against it.

The Militia is loosely divided into Brigades. Each Brigade is responsible for fighting in an assigned section of Frontier territory, which might span as far as several planetary systems. The Marauder Corps, a.k.a. the M-COR, is a small part of a much larger Brigade tied to the Freeport System. Although some brigades are little more than vast pirate organizations, the Militia has enough resources to be a real obstacle to the IMC's ambitions on the Frontier.
Here's The Militia:
MacAllan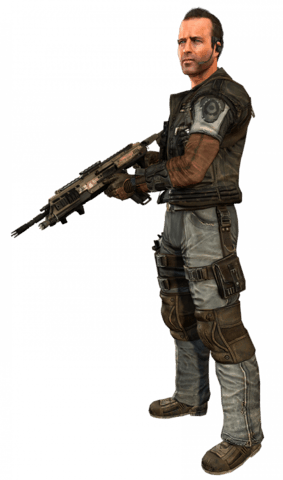 A highly decorated veteran of the Titan Wars, MacAllan served as the executive officer of the IMS Odyssey, under the command of Vice Admiral Marcus Graves. The Odyssey's mission was part of a peacekeeping operation on the Frontier for the IMC. Official IMC reports indicate that MacAllan led a mutiny aboard the Odyssey fifteen years ago, citing numerous grievances with the IMC's treatment of Frontier citizens. However, these reports have not been proven, in the absence of the ship's flight data recorder, which was lost when MacAllan and his people escaped with the Odyssey, and disappeared into an uncharted sector of the Frontier.
Bish

The name Bish is short for Bishamon, the mythological god of warriors within the Japanese Seven Gods of Fortune. Bish is an IMC-trained electrical engineer, born and raised on Earth. After getting screwed over by the IMC on a Frontier job placement that cost him all his savings just to move out there, he ended up in the right place at the right time – the notorious 'Bish bar brawl' – to take the Militia's timely offer of employment.
Sarah

As a child, Sarah lost several close members of her family to incidents in which the IMC displaced Frontier citizens by force. As a result, she vowed to take revenge on the IMC at every possible opportunity, refusing to rest until they have been removed from the Frontier. For most of her career, she served in Covert Operations for the Militia, before moving into the command ranks of the Militia's Marauder Corps. Her long list of successful attacks on IMC installations landed her on the IMC's High Value Target List, where she remains listed as one of the 50 most dangerous Militia operatives still at large.
SOURCE: Titanfall