Titanfall to run on Microsoft's (Cloud) dedicated servers -UPDATE
Respawn has just confirmed that all versions of Titanfall will run on dedicated servers via their own cloud setup.
Titanfall producer Drew McCoy confirmed with VG247 that they are not utilizing Microsoft's Cloud setup but actually their own. This is good news if the game ever ends up releasing on a Sony console.
UPDATE: Respawn has corrected us and confirmed that Titanfall will utilize Microsoft's cloud servers, not Respawns as previously reported.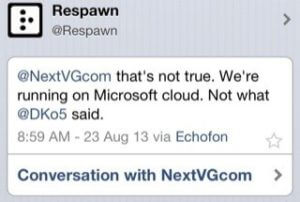 Respawn went onto confirm that the PC version will also use the Microsoft cloud:

SOURCE: VG247