Merax Gaming Chairs: Everything You Need to Know
Gaming in the 21st century generally isn't a quick in and out job. Most games now are vast and immersive and that means we're putting in the hours. For true gamers we want to always have the best equipment. We'll spend a long time searching for the best PCs or consoles, upgrade our graphics and get new monitors to maximize the experience. We also research the games we play so we have access to the best.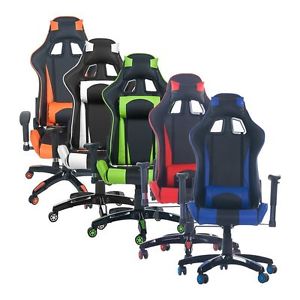 Getting the right gaming chair is just as important as any of these other features even though it may not seem it. You want your gaming chair to be as comfortable as possible because realistically you're going to be spending a fair amount of time sitting in it.
The health issues of getting a poor gaming chair can be extreme. A standard chair won't give much, if any, support to your body and when you're sat there for hours you need to have your back supported. Back pain can be pretty serious and back problems echo into old age becoming a problem you really don't want to have to deal with.
In order to play your best and focus you'll want a good gaming chair. I'm sure there are enough pains in the butt around so don't let your chair be one of them. The right chair will add to your gaming experience and maybe even let you play better.
Merax Gaming Chairs
Merax as a company are known for their quality and for their great relationship with their customers. They provide reliable products and offer continued customer service to support you if something does go wrong. It's not always you see an accountable and trustworthy company in 2017 and it's definitely noteworthy.
Merax gaming chairs are built using good quality materials. Most of their chairs feature leather cushioned seating with a strong and sturdy base that you can rely on. They can support heavy weights with ease and are still manoevreable.
One of the most attractive things about Merax Gaming Chairs is their style. Every chair in Merax's range is designed to look great using a bold black and red or black and blue style for most of them. It really helps give a pro look to your gaming station.
Comfort is the name of the game with the Merax range. Their chairs are designed with unique cushioning that makes them one of the most comfortable in this price range. The chairs are adjustable so you can find the perfect comfort level for you as you play.
Good quality gaming chairs are essential because they provide the support you need. Gaming can often mean sitting down for hours so you need a chair that's designed to support your back and not leave you with long term problems. The Merax range of gaming chairs offer increased support with their specially designed frame. This means you can play for longer without any discomfort.
Merax as a company are one of the best value around. They have broken the mold in gaming chairs as it used to be you could never get anything decent for below $500. They modelled their chairs after the expensive brands but kept their prices low. This lets you get the quality you're after at a price you can still afford.